Open Learning Initiative - University Preparatory Program (OLIve-UP)
OLIve-UP is a university preparatory program for people of refugee backgrounds who wish to apply to an English-language Masters degree in Europe.  It is a registered non-degree program of Central European University (CEU) in Vienna.  CEU is an Austrian and American accredited university, offering Masters programs fully accredited in both Austria and the United States (and, in some cases, Hungary).
The OLIve-UP program will run in Vienna from January to August 2022.  Previous programs have run in Berlin and Budapest. OLIve-UP programs have run since 2017 and have a good record of getting students into higher education - about 70% of our students are accepted to a degree program after OLIve-UP.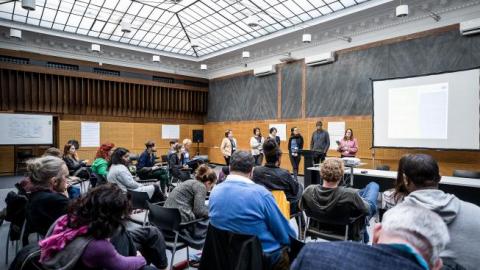 This OLIve-UP program prepares students for entry to Masters programs at CEU.  It focuses on learning a specific subject, academic English learning and academic skills and writing training.  The program requires a total of 72 ECTS.  While the focus of the program is preparing students for Masters programs at CEU, the skills learnt are transferable to other English-language graduate degree programs.
The curriculum at OLIve-UP is designed to help students understand the expectations of Masters programs at CEU and thrive in them. By the end of the program, students should have the foundational skill set necessary to make a competitive application to CEU and thrive in a Masters program at CEU. 

Entry to and graduation from OLIve-UP is not a guarantee that you will be accepted to CEU Masters programs.  The OLIve-UP program aims to help you make a competitive application to these Masters programs.  Decisions on entry to Masters programs are made by the programs themselves and are based solely on merit.  Scholarships and funding are available for both OLIve-UP and, to successful candidates, Masters programs at CEU.

Because OLIve-UP prepares students for entry to CEU, we restrict ourselves to Masters subjects taught at CEU.  These are mostly social sciences and humanities subjects.  A full list of CEU Masters programs are here.
OLIve-UP is taught in English.